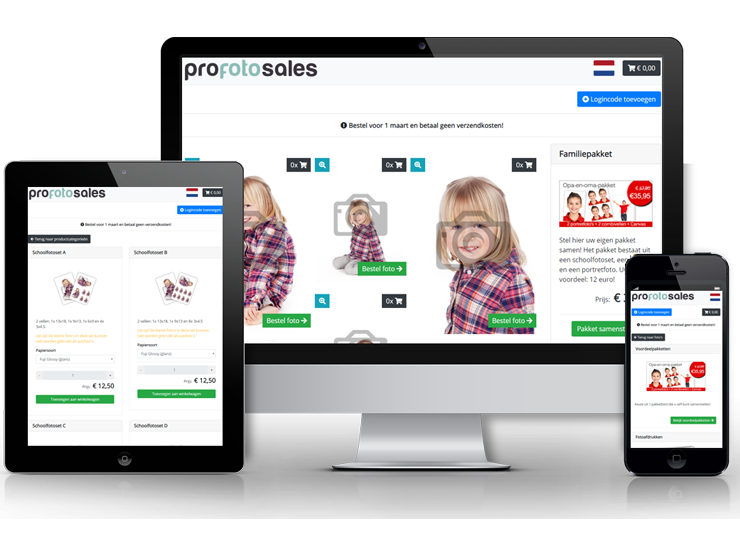 What is Profotosales?
Our platform gives school photographers the option to enter into a professional partnership with our photo lab. The result: superior quality, unparalleled know-how and comprehensive support. For many years we have been the go-to, all-round solution for countless school photographers in The Netherlands and Belgium when it comes to uploading and selling their school photos. Now that's what we call nifty.
As a Profotosales customer you are given your own webshop straight away, one you can set up just as you want it. Your own product range, price range, house style, and so on. Once your bespoke webshop is ready, you can start uploading the school photos. You can do so in several ways. Interested? We're on hand to provide further details. Also very nifty: you can put together your own product packages and batch orders, to save on delivery costs. So, lots of possibilities to boost sales!Once you've uploaded the school photos you can make login passes. These login passes are meant for the parents. They list a code the parents can use to log in to your webshop. As soon as the parents receive their login pass, they can start placing orders. We then process the order. We print the photos, package them and dispatch them via white label shipping to the client; easy and fully bespoke!
Anything else you need to do? Just offer the relevant support your customers require. Need a little more help? Our dedicated team are on hand to help.
Why Profotosales for the school photographer?
Profotonet's products have been renowned for their superior quality for many years now. Want to offer your customers the same standard of quality? Profotosales facilitates that. Our online platform has been developed in-house and is constantly tweaked. We listen to your needs, collate and analyse feedback and focus non-stop on improvement and innovation. Moreover, Profotosales offers photographers many more benefits:
Unlimited number of school uploads
Unlimited storage space per school
School photos accessible online for 18 months
Free personal support
No commission costs
Bilingual webshop in English & Dutch
International deliveries optional
Payment via all standard payment methods
Cost
We charge a fixed monthly fee of €28.50 for Profotosales, with no additional commission costs. So, there are no hidden surprises. Included in this charge, we provide the level of support required, and we ensure your webshop is serviced. In addition, we continually work on our platform, so you can benefit from any updates made to it. All at no additional cost!
We send out a batch invoice twice monthly, that combines all processed orders.
We offer standard special prices. Making it even easier for you to offer your products at competitive rates. We work with pay.nl for payment transactions. They charge transaction fees on a transaction basis. Please get in touch with us for further details of the actual fees.
Demo
Are you curious about our platform? Want to know if it's something for you? Watch our video to get a better idea, or watch the demo. You can log into the demo using: 1111-2222-3333.