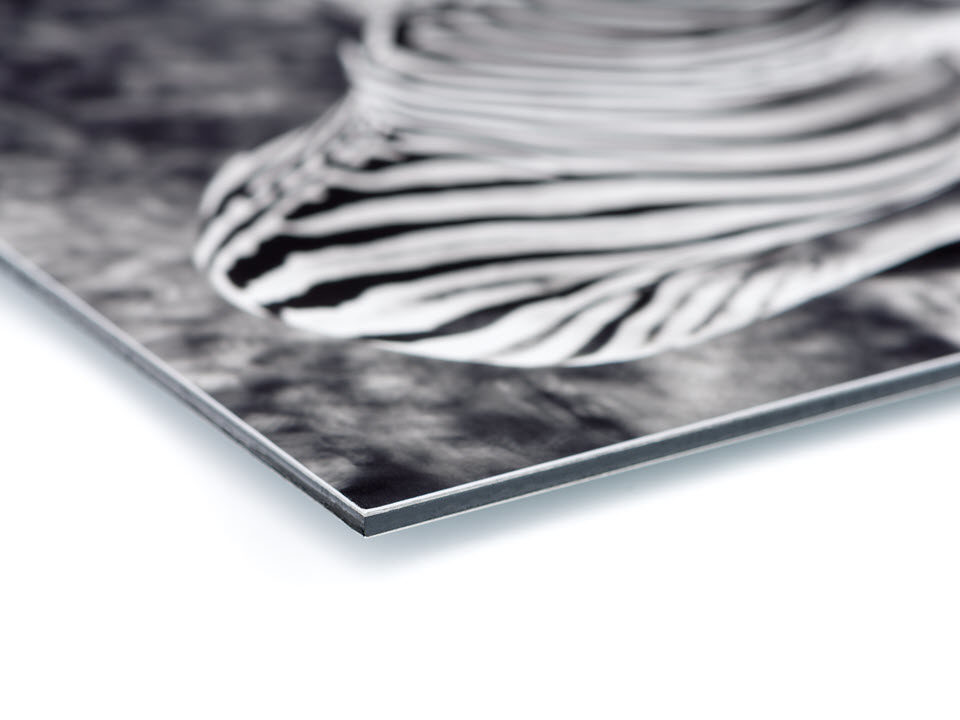 Wat is dibond?
Wanneer aluminium en polyethyleen samenwerken, ontstaat een prachtig materiaal: dibond. Hiermee wordt de mooiste wanddecoratie gemaakt. Dibond platen zijn lichte platen die zijn opgebouwd uit 3 lagen. De buitenste lagen zijn vervaardigd van 0,3 mm dik aluminium en de kern is gemaakt van zwart kunststof, ook wel polyethyleen genoemd. Dit garandeert maximale stevigheid voor uw werk en al sinds jaren wordt dit met de beste resultaten gebruikt. Dankzij de minimale dikte is het materiaal superlicht – zo kun jij als liefhebber van fotografie jouw werk ook in grote formaten veilig en zonder problemen aan de muur hangen.
Voor afdrukken op dibond bieden we drie mogelijkheden aan: een fotoafdruk op dibond, een directdruk op dibond of een directdruk op geborsteld aluminium. Hieronder is te lezen wat de verschillen hiertussen zijn.
Foto op dibond
Voor de mooiste foto's van de hoogste kwaliteit raden wij onze echte fotoafdruk op dibond aan. De foto wordt eerst in hoge resolutie op ons premium Fuji fotopapier of een van de speciale zwart-wit papiersoorten gedrukt voor deze op 3 mm dibond gelijmd wordt. De aluminium afwerking geeft uw foto de exclusieve look die ze verdient. Verlijmd op het aluminium blijft uw werk zeer goed tegen materiaalvervormingen beschermd. Dankzij het geringe gewicht kunt u uw favoriete beeld zelfs ook in panorama- of groot formaat zonder problemen aan de muur hangen.
Voordelen
Een echte fotoafdruk van topkwaliteit
Stevig, vormvast en duurzaam
Strak en modern design
Stabiel en zeer licht
Directdruk op bidond
In tegenstelling tot de foto op dibond wordt de directdruk op dibond niet op fotopapier gedrukt, maar rechtstreeks geprint op het materiaal. Er zit een witte laag over de ondergrond om intense kleuren te behouden. Hierdoor zijn onze directdrukken op dibond niet alleen licht- en kleurecht, maar ook weer- en waterbestendig. Ze zijn dus ook geschikt voor de keuken en badkamer, en voor overdekte buitenplaatsen.
Voordelen
Scherpe UV print met intense kleuren
Stevig en licht
Mat oppervlak
Minimalistische look
Dibond – robuust, licht en toch stevig
Al meer dan 200 jaar fascineert aluminium de mensheid. Het bijzondere materiaal kan eenvoudig en nagenoeg overal voor worden gebruikt. Als ondergrond voor foto's is onze dibond afdruk oogverblindend – en de ideale basis voor een buitengewone presentatie van uw motieven. Ondanks de geringe dikte van slechts één millimeter, is de plaat toch ongelooflijk sterk. Dankzij de duurzaamheid van het materiaal blijft uw dibond afdruk lange tijd in topvorm.
Combineer dibond met acryl
En er is nog meer mogelijk, combineer het dibond met een toplaag van acryl van 3 of 10 (!) mm voor een nog luxere uitstraling. Het dibond als achterkant zorgt voor stevigheid van de foto en het acryl bovenop de foto creëert diepte, glans en een intensiteit aan kleuren zodat de foto bijna van die muur afspringt.
Een premium product bij Profotonet dat uitblinkt dankzij de hoogwaardige afwerking en krachtige uitstraling.