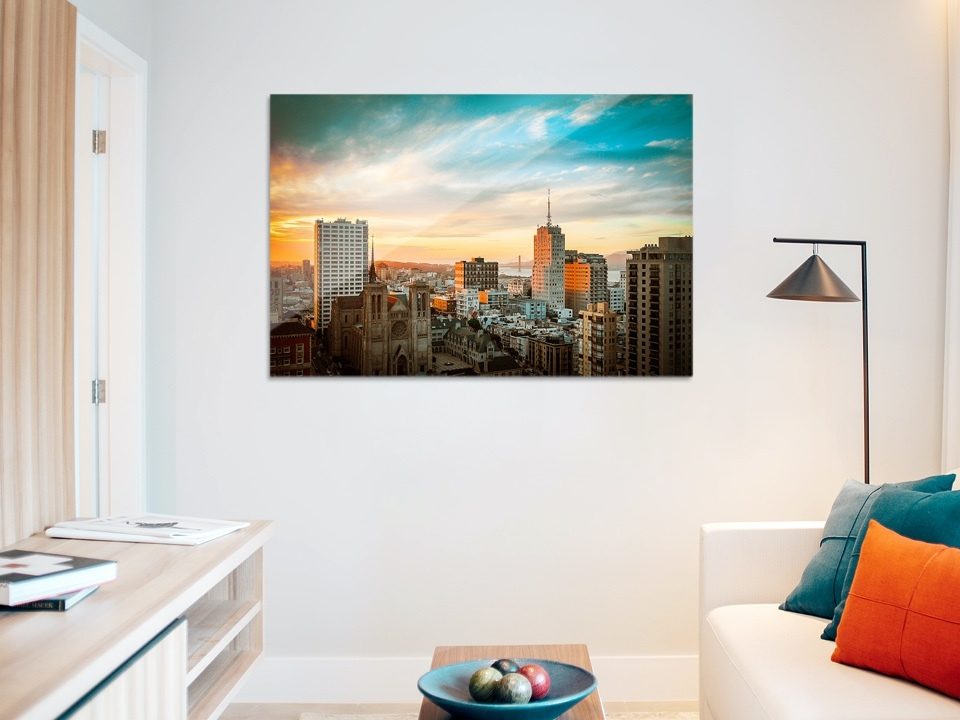 Reflective hanging system
A reflective hanging system is ideal for prints on lightweight material, such as polystyrene and Forex, and for bigger and smaller formats. For the bigger, heavier Dibond, Plexiglas and Dibond with Plexiglas products, we recommend the more exclusive, stable aluminium profile. The reflective hanging system fits flush on the product. There are also two spacers at the bottom, for equal spacing from the wall all over. A reflective hanging system is a simple, sturdy solution.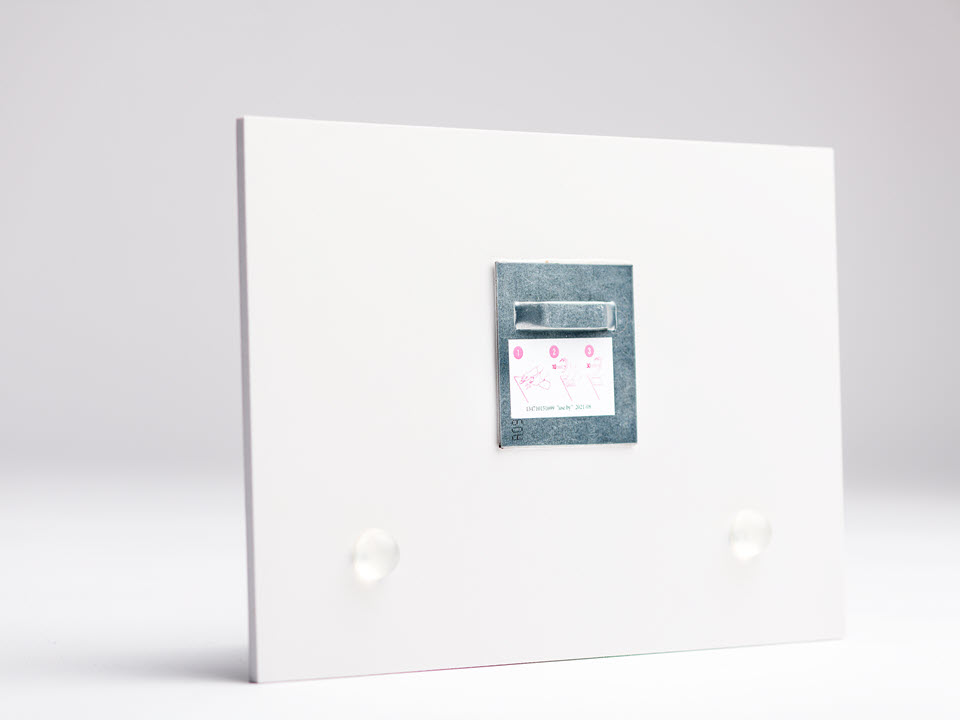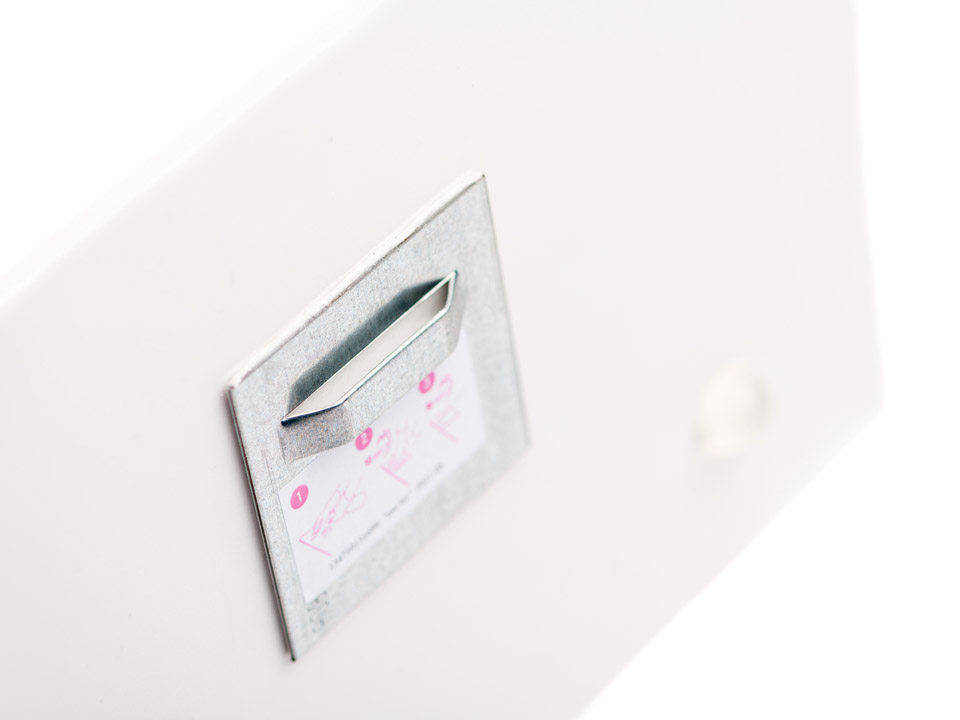 Aluminium profile
An aluminium profile is the most exclusive hanging system we provide. This all-round mounted frame is ultra strong. For a stable, yet 'floating' effect. We definitely recommend this sturdier system for our heavier, larger wall art formats.
And, we recommend you use the aluminium profile when you order a photo on Forex or polystyrene; for wall art you'll be enjoying over longer periods. You see, without an aluminium profile this material can warp due to fluctuations in temperature and humidity.
Aluminium profile for a photo/direct print behind Plexiglas
An aluminium profile is the only available option for a print behind Plexiglas (both direct print and photo). It isn't possible to order a photo or direct print behind Plexiglas without a (reflective) hanging system. The aluminium profile secures the sheet of Plexiglas. Without the aluminium profile the Plexiglas can warp, which is why we don't offer a hanging alternative for this product.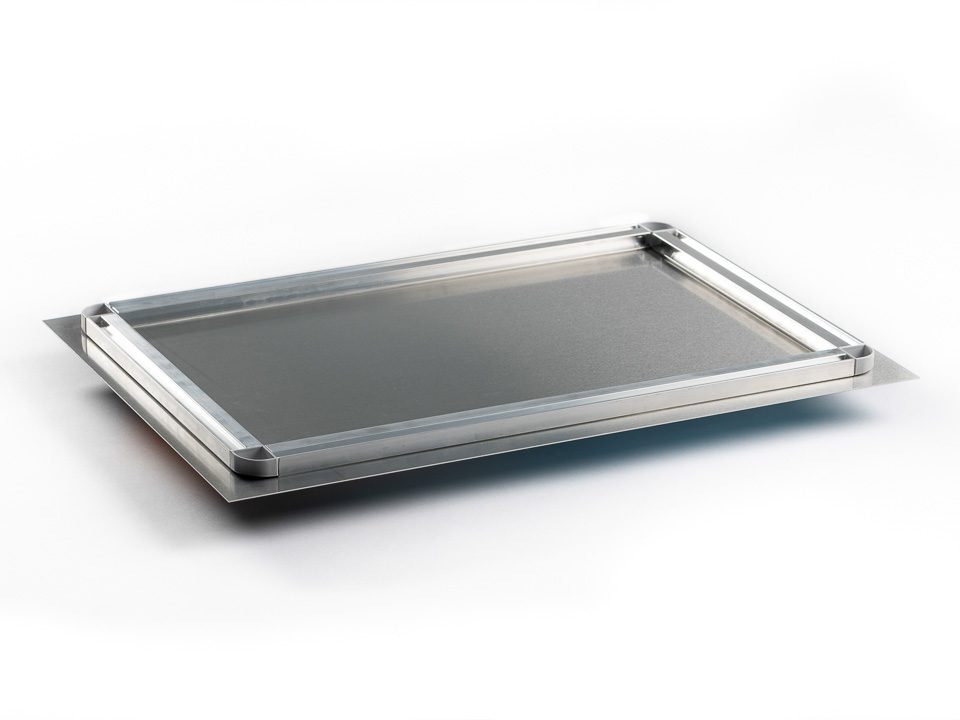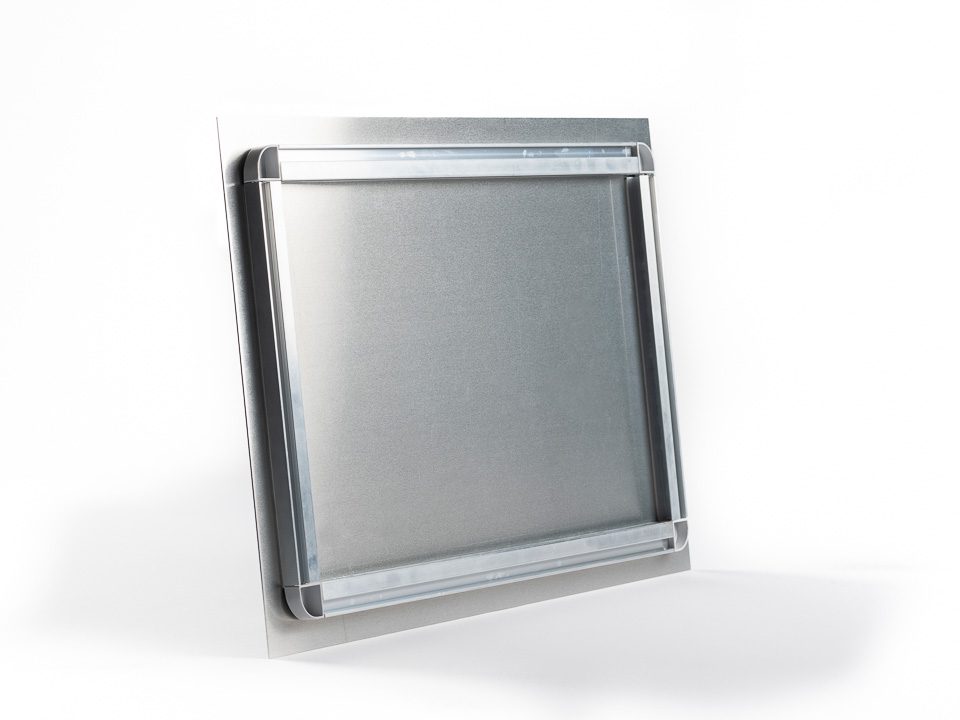 Prijzen
| | | |
| --- | --- | --- |
| Formaat | Aluminium ophangprofiel | Spiegelophangsysteem |
| 20×20 | € 10,00 | € 9,00 |
| 20×25 | € 10,00 | € 9,00 |
| 20×27 | € 10,00 | € 9,00 |
| 20×30 | € 10,00 | € 9,00 |
| 20×36 | € 10,00 | € 9,00 |
| 20×40 | € 10,00 | € 9,00 |
| 20×60 | € 10,00 | € 9,00 |
| 20×80 | € 10,00 | € 9,00 |
| 20×100 | € 10,00 | € 9,00 |
| 20×120 | € 10,00 | € 9,00 |
| 30×30 | € 10,00 | € 9,00 |
| 30×40 | € 10,00 | € 9,00 |
| 30×45 | € 10,00 | € 9,00 |
| 30×53 | € 10,00 | € 9,00 |
| 30×60 | € 10,00 | € 9,00 |
| 30×90 | € 20,00 | € 9,00 |
| 30×120 | € 20,00 | € 9,00 |
| 40×40 | € 10,00 | € 9,00 |
| 40×50 | € 10,00 | € 9,00 |
| 40×53 | € 10,00 | € 900 |
| 40×60 | € 10,00 | € 9,00 |
| 40×71 | € 20,00 | € 9,00 |
| 40×80 | € 20,00 | € 9,00 |
| 40×90 | € 20,00 | € 9,00 |
| 40×100 | € 20,00 | € 9,00 |
| 40×120 | € 20,00 | € 9,00 |
| 40×160 | € 20,00 | € 9,00 |
| 50×50 | € 20,00 | € 9,00 |
| 50×60 | € 20,00 | € 9,00 |
| 50×67 | € 20,00 | € 9,00 |
| 50×70 | € 20,00 | € 9,00 |
| 50×75 | € 20,00 | € 9,00 |
| 50×89 | € 20,00 | € 9,00 |
| 50×100 | € 20,00 | € 9,00 |
| 50×150 | € 20,00 | € 9,00 |
| 60×60 | € 20,00 | € 9,00 |
| 60×80 | € 20,00 | € 9,00 |
| 60×90 | € 20,00 | € 9,00 |
| 60×107 | € 20,00 | € 9,00 |
| 60×120 | € 20,00 | € 9,00 |
| 60×180 | € 20,00 | € 9,00 |
| 70×70 | € 20,00 | € 9,00 |
| 70×90 | € 20,00 | € 9,00 |
| 70×93 | € 20,00 | € 9,00 |
| 70×100 | € 45,00 | € 9,00 |
| 70×105 | € 45,00 | € 9,00 |
| 70×124 | € 45,00 | € 9,00 |
| 70×140 | € 45,00 | € 9,00 |
| 80×80 | € 20,00 | € 9,00 |
| 80×100 | € 45,00 | € 9,00 |
| 80×120 | € 45,00 | € 9,00 |
| 80×160 | € 45,00 | € 9,00 |
| 90×90 | € 45,00 | € 9,00 |
| 90×120 | € 45,00 | € 9,00 |
| 90×135 | € 45,00 | € 9,00 |
| 90×180 | € 45,00 | € 9,00 |
| 100×100 | € 45,00 | € 9,00 |
| 100×120 | € 45,00 | € 9,00 |
| 100×133 | € 45,00 | € 9,00 |
| 100×150 | € 45,00 | € 9,00 |
| 110×110 | € 45,00 | € 9,00 |
| 110×147 | € 45,00 | € 9,00 |
| 110×165 | € 45,00 | € 9,00 |
| 120×120 | € 45,00 | € 9,00 |
| 120×160 | € 45,00 | € 9,00 |
| 120×180 | € 45,00 | € 9,00 |