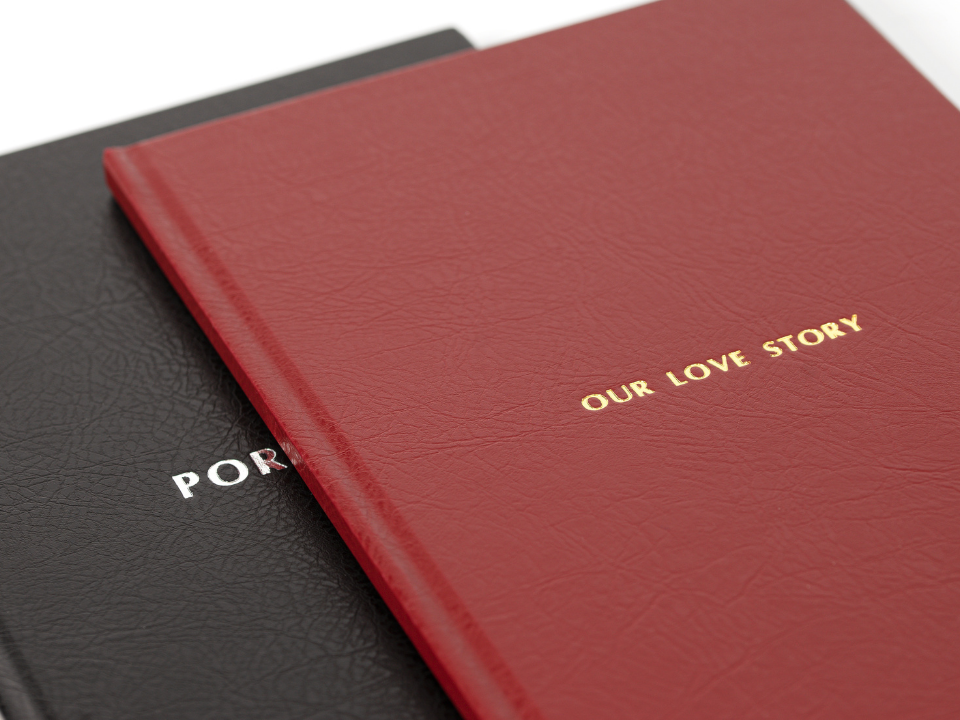 What is embossing?
Embossing means that lead dies shaped like letters are stamped into the material. This creates raised text that can be felt when you run your hand over the cover. It is possible to visually strengthen this effect by 'filling in' the letters with black, white, gold or silver-coloured foil. This extra luxurious accent is the perfect finishing touch for your photo book.
How does it work?
First, you create a project in the Album Designer or Album Designer Pro and select a leather/linen photo book. You then put together the book as you like and add it to your shopping cart. Once you have picked a material and colour for your cover, you can then select embossing. You can choose from three options for embossing: one, two or three lines of text, with a maximum of 16 large characters (which are 9 mm high) or 30 small characters (5.5 mm high) per line. For the 15×15 albums, there is a maximum of 10 large characters (9 mm) or 20 small characters (5.5 mm) per line. The text will be centred on the cover.
Exceptions
In principle, text can be embossed onto any kind of material – by which we mean letters can be stamped into the material to create raised text. The foil, on the other hand, is not suitable for all materials. Foil cannot be added to suede and most kinds of rough leather (white, black, beige, red, elephant grey) because it will not stick to these products. Without foil, the embossed text will have a subtle appearance. You may find this desirable if you want your book to have a natural look and feel. If you're looking for truly eye-catching text that can easily be read from any angle, you should choose an option with foil.
Because embossing is done with 'copperplate' letters, it is not possible to choose your own font. The letters you see in the image above are the kind we use for embossing. Click here for a useful PDF containing a more detailed explanation. The covers of our Premium Plus and Professional photo books have foam back covers. Before embossing these covers, the foam is removed to deliver an optimal result.
If you prefer a custom layout and greater freedom in terms of possibilities, choose a photo book with laser-engraved text. This will allow you to create the cover entirely as you like, after which we will laser engrave your design into the cover.