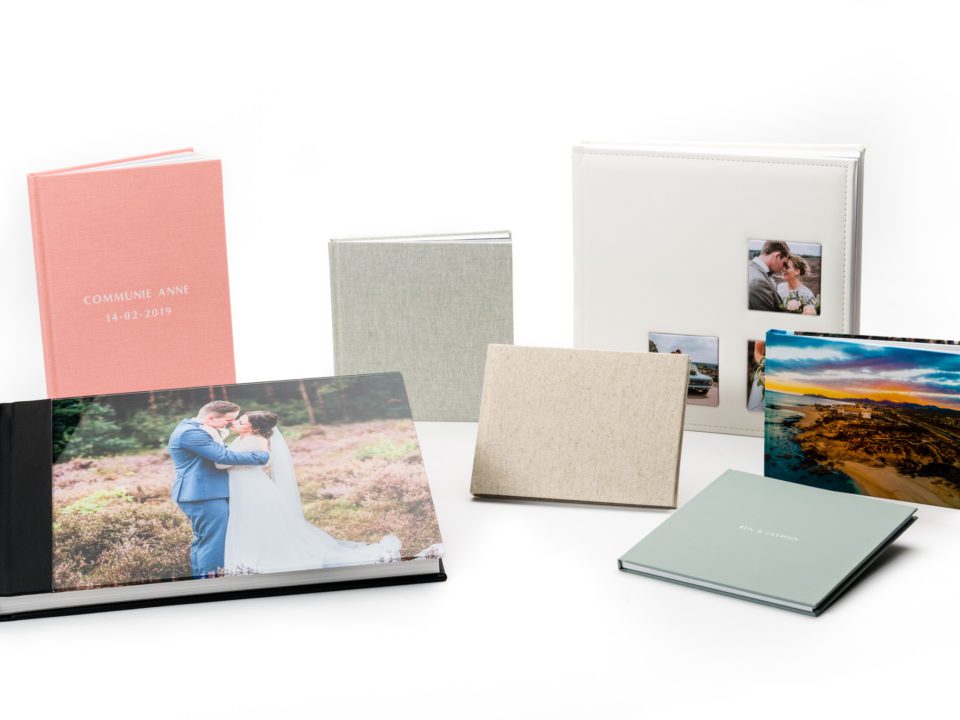 Which product to choose?
At Profotonet we have three photo book types: Premium, Premium Plus and Professional. One key thing all our photo books have in common: lay flat binding. So, lay-flat, bulge-free pages in the middle aren't optional, they're a given. In addition, all our photo books are exposed on bona fide photo paper.
Another key difference is the page thickness: the Premium Photo Book is two photo prints thick.  Moreover, the Premium Plus Photo Book and Professional Photo Book have an extra 1 mm layer of museum quality card stock too. Plus, these two photo books have foam in the cover (padded), for a truly exclusive finish. These two products make ideal wedding photo books.
There are a handful of overlapping and unique product options between the various photo books; these are all listed in the table below.
Differences between the photo books
Premium Soft Cover Photo Book

Premium Photo Book

Premium Plus Photo Book

Professional Photo Book

Exposed on Fujifilm HD Album Paper

Thickened pages

Contains a logo

Padded cover

Photo cover on photo paper

Photo cover on linen

Covers - Liv, Sparkle, Paradise, Pure and Rebel Collection

Covers - Classic Collection

Covers - Velvet Collection

Covers - Royal and Western Collection

Plexiglas cover

Yes, except 15×15

Yes

Yes

Exclusive cover (Newman, Delon, Cooper, Photo mount)

Free

Customised, exclusive box

Presentation box

Linen endpaper

Additional manual quality control
Available formats
Our photo books come in a range of formats. The table below lists them all.
Premium

Premium Plus

Professional

15x15

15x20

20x20

25x25

20x30 / 30x20

30x30

30x40

30x45
Photo book cover options
The table above lists the various photo book covers. But, again, there are a few differences to be found. For instance, some leather types can be ordered for the Premium Plus and Professional photo books, but not for the Premium photo books. We have listed all the specific options below.
Premium

Premium Plus

Professional

Liv Collection

Sparkle Collection

Paradise Collection

Pure Collection

Rebel Collection

Classic Collection

Royal Collection

Western Collection
Embossing

Laser text

Liv Collection

Sparkle Collection

Paradise Collection

Possible.

Possible. Except Dolphin, Palm en Shadow.

Pure Collection

Rebel Collection
Easy Premium

Premium

Premium Plus

Professional

Photo cover on photo paper

Photo cover on linen

Plexiglas cover

Passe-partout

Cooper
Which designer software should I choose?
At Profotonet you can choose between online design software, or software installed on your own computer. We have listed the main pros & cons and differences for you below. This should help you decide which of the two will work better for you. You see, your computer's security settings and internet connection speed can also sway your decision to work on or offline.
Use our Profotonet Album Designer software to design offline.
Want as many creative options you can get when making your photo book? If so, download out Profotonet Album Designer. Read the pros & cons of the software download option below.
Pros:
You work with Smart Designer, so you'll have a great photo book design in no time at all.
No internet connection required to use the software.
More customisable options, such as using your own fonts and templates.
Automatic warning and shifting of risky text and photo frame positioning.
Extensive frame alignment tools
Shortcut to the original photos, to retain optimal resolution.
You can pop multiple photo books in the basket, to order in one go.
Cons:
Installation, updates and uploading may necessitate changes to your computer security settings.
Further design work on another device will mean transferring your project file and photos.
You should update the offline designer regularly so that you can take advantage of the latest design options and discounts
Our tip: have you got specific ideas in mind, such as own templates and fonts? Or, are you planning on dedicating a lot of time to the design? If so, download our software onto your computer.
Designing online
Sometimes you just need to order a photo book quickly. This is when you need the online designer. You can even use it on your Smartphone: now that's nifty! Below we have listed the pros & cons of an online photo book design.
Pros:
No installation required, simply start designing your photo book straight from your web browser
Smart help lines for easy frame alignment
Open your up & running project from any device
Create a fantastic photo book in no time at all, and order straight away
Ideal for the Premium photo book, this book has spacious page layouts, which is ideal if you're working on your Smartphone.
Cons:
Multiple photo book orders aren't possible online
No automatic warning for risky text and photo frame positioning.
No Smart Designer online (yet) Autofill works OK, but Smart Designer works better
Own fonts cannot be loaded, nor can your own templates be saved
If your internet connection is slow this may impede photo upload
Our tip: Fancy putting together a fun keepsake the day after a great night out? Or, want to create a fun, customised gift quickly? If so, the online option is the way forward.
Now, time to get cracking!
This is when you can get down to business: selecting your photos. If you've weeded out unwanted photos from the start, you won't need to sift through hundreds of photos. But if you do have a pile of photos to go through, try out the Smart Designer. This cleverly sifts through your photos, and comes up with a great selection. You can also filter your own preselections. Clearly grouping your photos makes creating a photo book much easier!
Have fun, and good luck with your design.