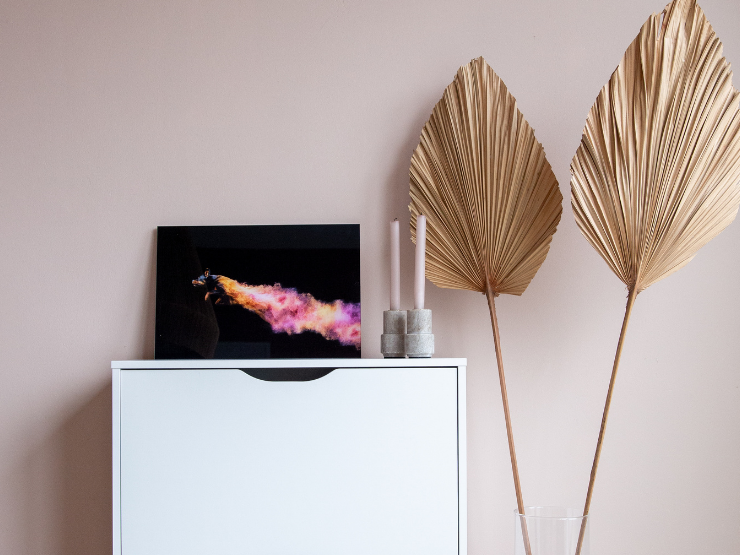 Direct print vs photo paper
In a direct print, the photo is printed directly onto the sheet material. This is done using an Inkjet UV printer with advanced printing technology that builds up the photo pixel by pixel using six independent ink channels. So if you look at the photo from very close up, you can see that the photo consists of countless little dots of colour. This printing technique gives your photo a superb matte finish with vibrant colours. The sheet material has a white layer which ensures that intense colours are retained. Moreover, the prints are not only lightfast and colourfast, but also resistant to weather and water. So they are suitable for environments ranging from living rooms to covered outdoor areas. However, you need to consider the material. A direct print on forex is more prone to warping than, for instance, a direct print on dibond.
If you want the finest photos of the very highest quality, we recommend our true photo prints on the material. In a photo print the photo is chemically exposed with a laser on genuine photo paper and then developed. After this, the photo print is glued onto the sheet material. This professional photo paper features a broad colour range (RGB) and outstanding quality. Striking colours are retained and the photos are perfectly sharp, without screen dots and with flowing transitions. Moreover you don't lose any details in the dark or light areas of the photos and, even better, your photos remain colourfast for at least 75 years. You can also choose from different paper types, ranging from deep matte to glossy and from colour to black and white. However, it's not possible to hang a photo on photo paper in an outdoor environment.
The difference in image quality
In a printed image you often see little dots or rasters. This is not the case in a photo developed on photo paper. In the illustration below you can clearly see the difference between printing and developing.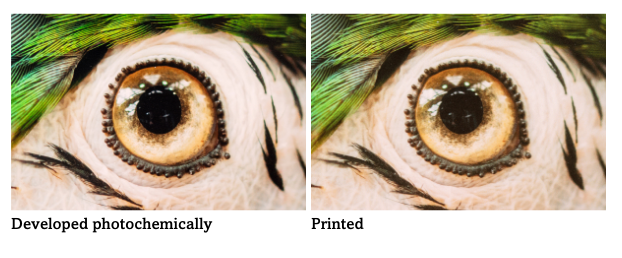 Attractive pricing and quick delivery
Since a direct print direct is printed straight onto the material, the production process is much shorter than a photo print. After all, your photo doesn't need to be printed separately, be glued onto the material and then dry. This is why a direct print is cheaper and you have your wall art delivered to you really fast!
Summary
No matter whether you choose a direct print or a developed photo glued onto the material, quality is always our prime focus. But remember: more expensive doesn't always mean that a product is better for you. When choosing the product you need to consider various things. Do you want to hang the photo indoors or outdoors? And do you want to select a special paper type? Moreover, there are price differences between the two types of wall art. The question you can best ask yourself is: Do I want an attractive, good-quality picture for a reasonable price, or do I want a jewel of wall art? And am I prepared to spend a little more money for this? Below you'll find a table that sets out the various options.
Direct print

Photo print

Possible materials

Dibond, plexiglas, forex and aluminium

Dibond, plexiglas, forex, polystyrene and Photo Blocks

Print technique

Inkjet UV printer that prints pixel by pixel

Photochemically developed with a laser

Suitable for use outdoors

Multiple paper types

Production time

5 working days

7 working days

Price 50x50 dibond

€ 58,00

€ 69,00

Price 50x50 plexiglas

€ 89,00

€ 117,00

Price 50x50 forex

€ 43,00

€ 64,00