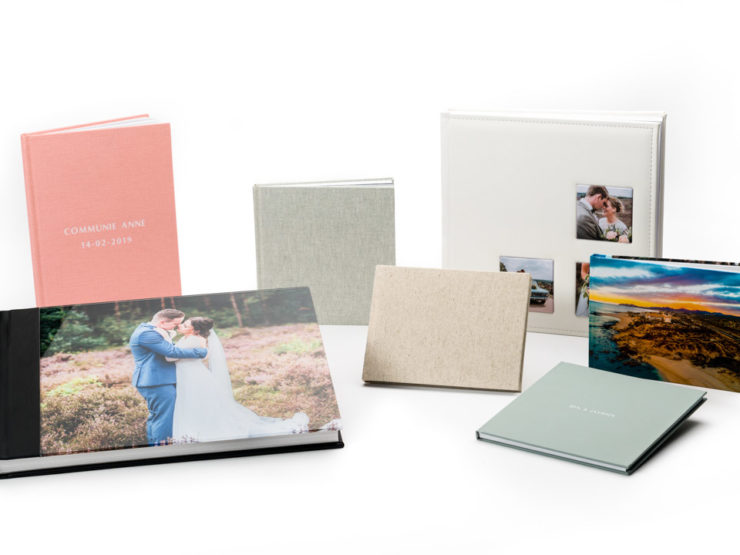 Wonderful memories should be cherished. A Profotonet photo book is made using genuine photo paper and is lay flat as standard. Perfect for your favourite holiday snaps, or to offer as an extra service at photo shoots.
Are you looking for superior quality? As standard, your photo book is made using genuine photo paper. This means your photo book isn't printed with a digital printing press, but is exposed onto photochemical paper (Fujifilm HD Album). The result? The sharpest, most vivid colours. The difference lies in the colour gamut. You see, this is more limited with a digital printing press, which in turn renders your photos duller and darker. On top of that, delicate raster formation runs across the images, something you don't get with bona fide photo paper.
Premium, Premium Plus and Professional photo books
If you're after a photo book that embodies quality, you've hit the jackpot with the Premium, Premium Plus and Professional photo books. Yet, there are a few differences between them . We have summarised these for you.
All our photo books are exposed on bona fide photo paper. This in contrast to many of our competitors who print photo books. The lay flat binding ensures a full spread, with the whole image showed in its full glory. The Premium Plus and Professional photo books have extra thickened book pages, that can be supplied with a unique cover. Your photo book will always be given the attention it deserves, as every single one is hand made by our bookbinder. Foam is also added to the cover, for an exclusive, robust look&feel.
Want to go all out and present your photo book to the max? An exclusive, matching presentation box adds the perfect finishing touch. Our standard presentation boxes come in anthracite and white. Looking for a cover that complements your photo book really well? Not only does the customised presentation box protect your photo book, but it can be fully tweaked to your liking, in terms of colour and material. Would you like to know more about our customised presentation boxes? Read all about them in our blog.
Make a photo book
Can you remember the days when the only option was to have your photos printed, to put in an album? We can too! Nowadays, there are many ways to make a photo book, which is also nice. At Profotonet you can do so offline and online. Don't want to spend too much time on your photo book? No problem. Simply opt for our online photo album software with ready-to-use templates and stunning designs.
But, we've also thought about the creative among you. Our offline photo book software allows you to make your photo book from scratch. Still with a range of templates, frames and design options to choose from. This makes creating a photo book a piece of cake, and you can truly give your creativity free rein.
Your photo book is delivered with so-called lay-flat binding. This means the left and right pages form one, single spread. Where with many of our competitors your photos are interrupted by the crease, this isn't the case at Profotonet. This gives you endless layout experimentation options.
Want to customise your photo book?
A photo book is a personal thing in itself. After all, it holds your photos. Yet, you have the option to customise it further. For instance, choose embossing, laser engraving, or a great photo on photo paper or linen for the cover. Check out the Premium, Premium Plus and Professional Photo Book cover options here.